Compassionate Action
is core to our DNA
We show up for each other. We pitch in. We serve. We listen. We have compassion. We reach out to our community.
That's why we are connected with these local community partners:
More than 330! That's the number of items St. John Lutheran members contributed to Wheeler Mission. All during the Lenten collection period, items kept pouring in – often overflowing the collection tubs. "The congregation really responded to the bulletin and newsletter announcements," says Nancy Steele, who heads St. John's Mission Board.
Why Wheeler Mission? "Our Mission Board is often seen leading our congregation's effort to support international missions. This year," notes Steele, "St. John is supporting missionaries Rafael and Jamielynn Flores serving in the Latin America and Caribbean Region." Steele notes that mission board members also felt strongly that our congregation has an important mission field in our city and local community. That's why it selected Wheeler.
Items collected included sheets, blankets, towels, hats, gloves, socks and personal items, such as toothpaste and toothbrushes. Nancy and Mission Board member Jayne Queck delivered the many bags and boxes of items to Wheeler Mission on Friday, March 17, 2023.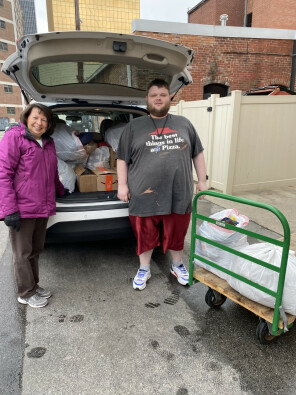 We gather food monthly in support of the following food pantries:
Preparing young adults for a Christian life through academic excellence.